Pan American es uno de los pocos hoteles ubicados en la Sexta Avenida de la zona 1 de la Ciudad de Guatemala, que en su momento fue el sector más importante de la ciudad.
Dentro del hotel hay un restaurante que ofrece platillos tradicionales guatemaltecos. Mi abuelita trabajo por mucho tiempo en zona 1 y me había comentado de este lugar, por que había tenido varias capacitaciones en este hotel. Yo no había tenido la oportunidad de probarlo, hasta que un día, el punto de encuentro fue Pan American.
Como sabía que era comida tradicional, tenia ganas de probar el Cocido o caldo de res, que prácticamente es una sopa de consomé de vegetales con un mix de vegetales cocidos y carne. Yo lo pedí con pollo.
El cocido, me llevó a los recuerdos de infancia tomando este caldito en la casa de mi abuelita materna, quién acostumbraba a cocinarlo.
El caldo tenía un delicioso sabor predominante de vegetales, y al haberlo pedido de pollo me garantizó no comer tanta grasa (comparado con el de carne de res).
Solicité que mi plato fuera de media porción y era enorme. Lo único que no me agrado es que el pollo venía con su piel, pero bueno, supongo que algunos disfrutan comerlo así.
Mi bebida fue una limonada de hierbabuena con Splenda, estaba súper fresca.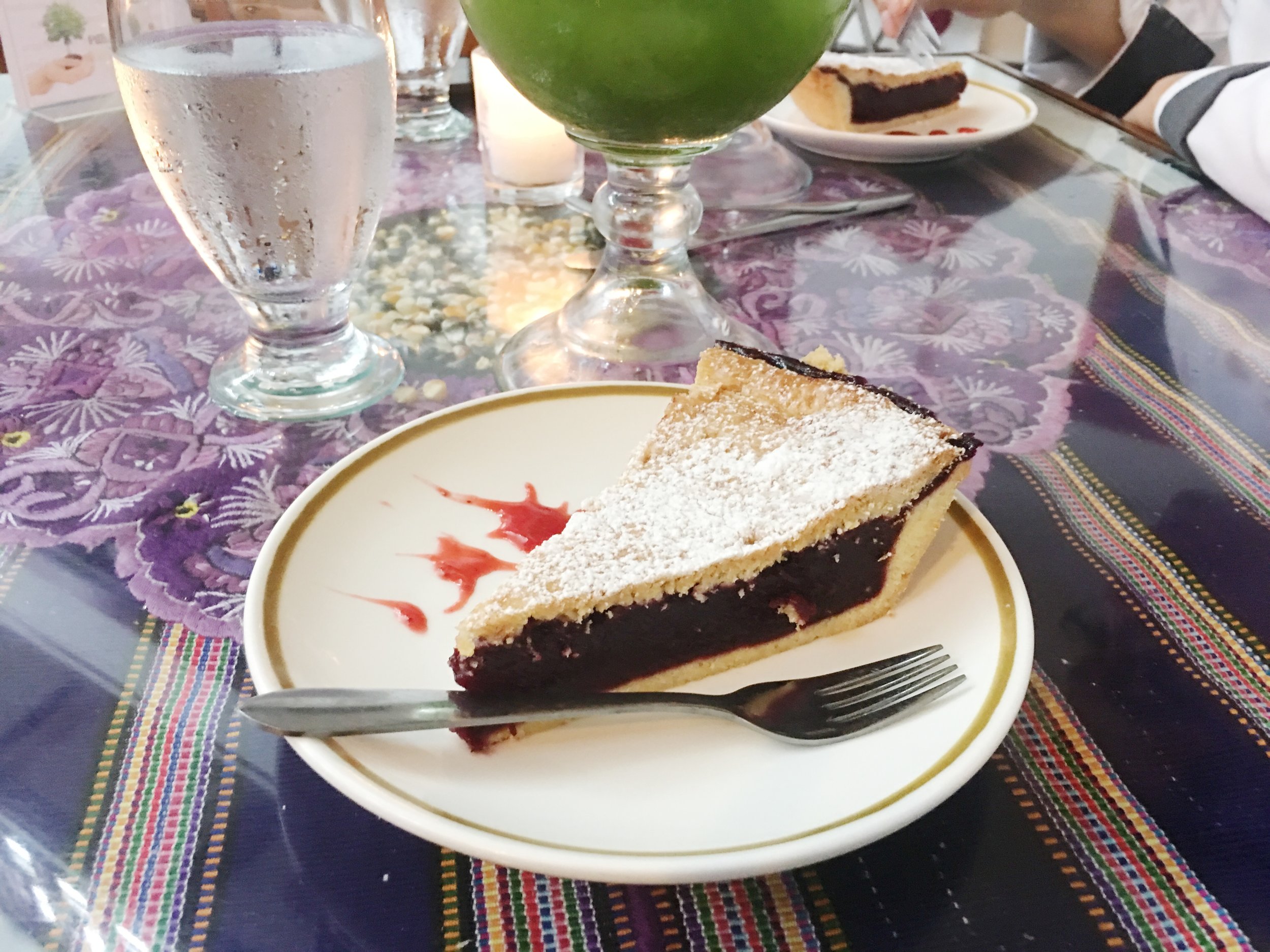 Para finalizar, no pude evitar marcharme sin un postre, que fue un pie de mora. Los pies son hechos en el lugar. Pero créanme que este pie ni siquiera cuenta como un pecadito, ya que cada bocado era como comer las propias moras. Fue delicioso sentir el sabor real de la fruta en lugar que ésta estuviera disfrazada con un montón de azúcar.
La desventaja del Hotel es que no tiene parqueo propio, así que para llegar a la ubicación hay que considerar que debes caminar como dos cuadras desde el parqueo publico más cercano.
The Pan American is one of the few hotels located in the Sexta Avenida of zona 1, which was, once the most important sector of Guatemala City.
Inside the hotel there is the restaurant, that offers traditional Guatemalan dishes. My grandmother worked for a long time in zone 1 and she made multiple comments of this place, as she had had several trainings at the hotel. I have not had the chance to try it, until one day, Pan American was the meeting place.
As I knew they served traditional food, I wated to try the Cocido or beef broth, which is practically a soup with a mix of cooked veggies and meats. I ordered it with chicken.
The stew took me back to childhood memories, having this stew in the house of my maternal grandmother, who used to cook it.
The broth had a delicious predominant taste of vegetables, and having ordered if from chicken, I was guarantee not to eat too much fat (compared to beef). I request a half portion and was a very generous. The only thing I did not like is that chicken came with their skin, but hey, I guess some enjoy eating like that.
My drink was a peppermint lemonade with Splenda, it was a refreshing selection.
To finish I could not avoid leaving without the dessert, which was a blackberry pie. Their pies are locally made. But believe me, this pie does not count as a sin, since every bite was like eating the blackberries themselves. It was very delicious to feel the real fruit flavor instead of it being disguised with lots of sugar.
The con about this place is that they do not have a parking lot, so you need to walk two blocks from the nearest parking.