La feliz es un restaurante que se encuentra adentro de una tienda de bicicletas en zona 4.
Su slogan es comida honesta y su oferta gastronómica son platos con ingredientes tradicionales guatemaltecos, pero con un twist.
Tenia mucha curiosidad de probar lo que tenían para ofrecer y me decidí ordenando un Catrín Vegetariano, que es tortillas rojas de zanahoria a la barbacoa, maíz al cilantro, farmers cheese curds, ciruela, manía y cilantro. De beber escogí una horchata de avena que es hecha con leche de coco, vainilla, avena, azúcar y canela, solo que en mi caso la pedí con splenda en lugar de azúcar regular.
Lo primero en llegar fue la bebida, por lo regular no hago mayor comentario en las bebidas que ordeno, ya que, por lo general son iguales en todos los lugares. A veces pido agua pura al no ver algo interesante para beber. Pero esta bebida desde que leí su descripción me pareció súper interesante.
Cuando tomé el primer sorbo de mi horchata, quedé fascinada, era refrescante y lo suficientemente dulce. Este es otro factor que me inquieta, que en general, las bebidas son demasiado dulces y así no me gustan. Pero no era el caso de ésta.
Nunca había tomado leche de coco y fue una delicia la mezcla de todos los ingredientes incluyendo el toque de vainilla y canela. Definitivamente es una bebida que hay que tomar para un día de calor.
Mi Catrín, cuando lo llevaron fue un deleite para los ojos, lleno de color y de texturas que creo que siempre es un gusto poder apreciar cada plato con la vista antes de comerlo. El sabor era agridulce balanceado, y la mezcla de texturas en la boca era como un juego para el paladar. La mezcla de fresco, crocante y dulce hacían que cada bocado valiera la pena.
Lo mejor de todo es que al final, terminé satisfecha sin sentir el estomago pesado por la comida. Para mi la porción fue justa, aunque en realidad todavía me hubiera cabido un postrecito.
La feliz it´s a restaurant located inside a bike store in zone 4 of Guatemala City.
Their slogan is honest food. They offer traditional Guatemalan cuisine ingredients with a little twist.
I was very curious about this place, upon reviewing the menu, I ordered El Catrin Vegetariano, which has red tortillas with BBQ carrots, sweet corn, coriander, farmers cheese curds, plum and peanuts. My drink selection was oats horchata, which is made with coconut milk, vanilla, oats, sugar and cinnamon. I requested the use of splenda instead of regular sugar.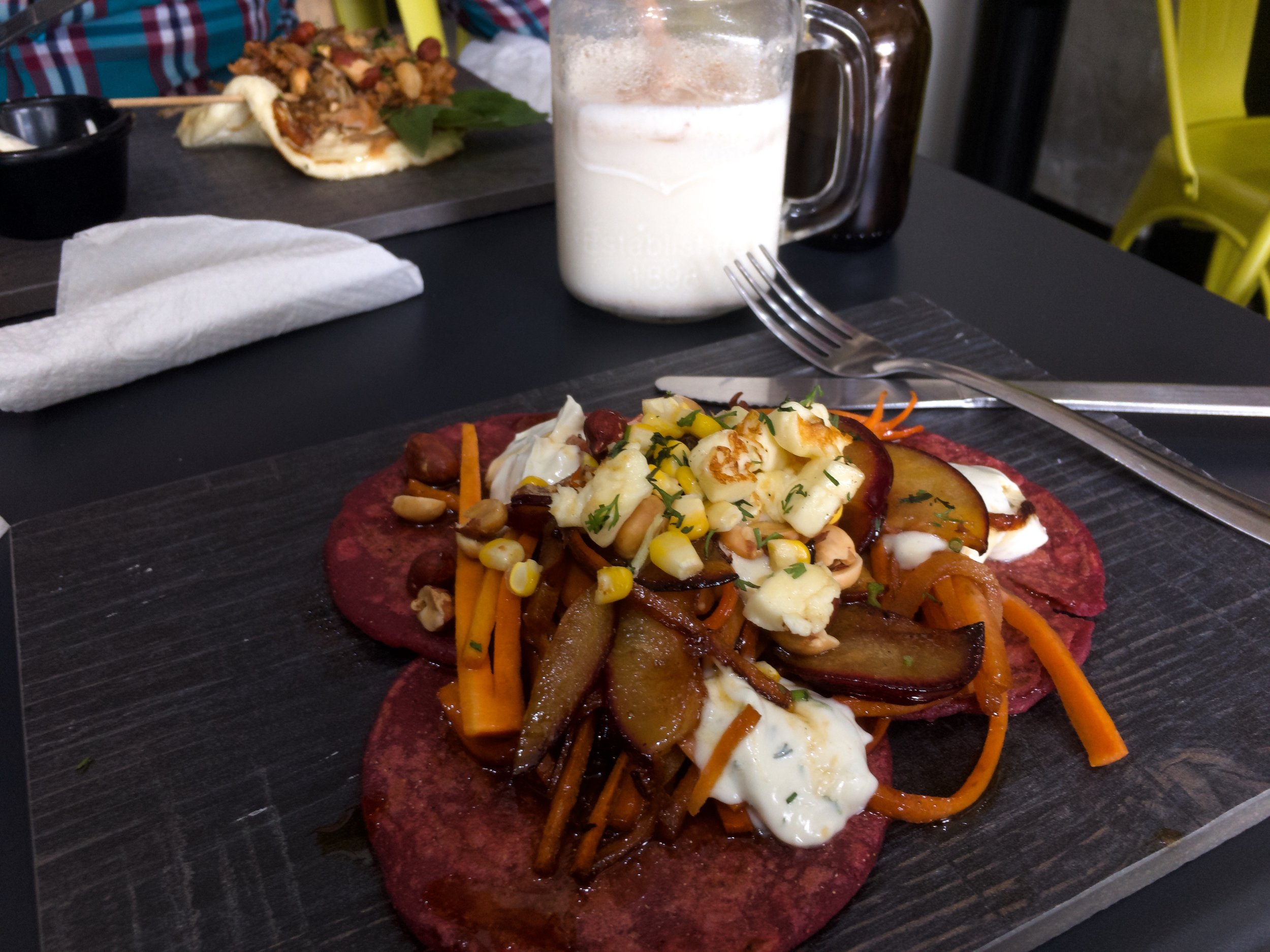 tortillas, sweet corn, farmers cheese curds, plum and peanuts
The first thing to arrive was the drink. Usualually I don't make any comment about drinks because regularly are the same in all places. Sometimes I simply order water if I don´t see anything interesting for drink. I particulary fancied this drink since I read it´s description.
I was amazed when I took the first sip of the horchata, it was refreshing and sufficiently sweet. This is another factor that worries me, generally, drinks are too sweet and I do not like them; that wasn´t the case of this horchata.
I had never had coconut milk and it was a delightful, mix of ingredients, including the touch of vanilla and cinnamon. It´s definitely a drink you should have in a summer day.
My Catrin, upon arrival, was charming to the eyes, full of colors and textures, I believe it´s always a pleasure to appreciate a plate before you eat it. The flavor was a balanced bitter sweet and the mix of texture was like a game for the palate. The combination of freshness, crunchy and sweet make every bite worth it.
Best of all, in the end, I ended up satisfied without feeling a heavy stomach, in fact I could have had a little dessert.